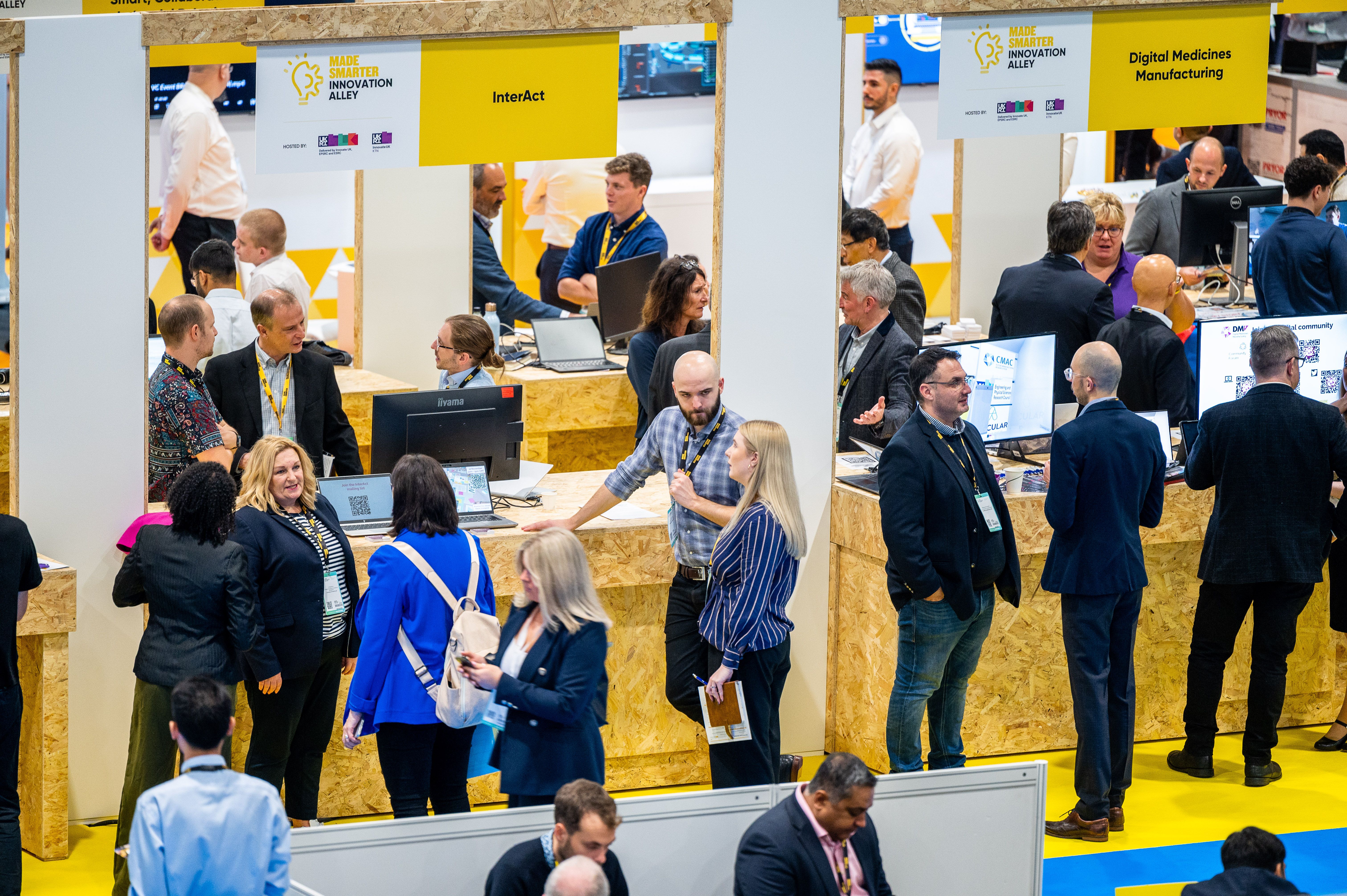 Smart Factory Expo, the national festival of advanced manufacturing, is home to Innovate UK's Innovation Village.
Showcasing leading edge innovation in low-carbon advanced manufacturing, the Innovation Village and Innovation Stage will feature companies supported by Innovate UK, access to investment support, details of funding opportunities and a series of speakers who are leaders in their industry.
The Made Smarter Innovation (MSI) stand, located in the Innovation Village, will feature 3 of the MSI projects – the Digital Supply Chain Hub, the Smart Manufacturing Data Hub and InterAct.
Made Smarter Innovation | Digital Supply Chain Hub
The Made Smarter Innovation | Digital Supply Chain Hub is developing and empowering a globally competitive, digital innovation ecosystem, working to address and prepare for critical supply chain challenges.
The Hub has recently announced the launch of national testbeds in food, hydrogen, automotive spares and circular textiles. This comes as the UK has seen considerable supply chain disruption of late, leading to delayed deliveries, higher prices, and empty petrol stations.
Data from the Office for National Statistics (ONS) shows just how wide-ranging and publicly visible this disruption has been. Between 20 and 31 October 2021, an average of one in six (or 17%) of adults in Great Britain experienced shortages of essential food items; during the peak of the fuel crisis, 6–17 Oct, 37% struggled to get fuel.
These testbeds will facilitate the development of new tools and services that will bolster the efficiency and resilience of supply chains, inviting new tech solutions providers to apply to trial their products in an end-to-end environment built using real life data.
Current Funding Support Available
The Digital Supply Chain Hub has funding opportunities worth almost £4 million to be delivered before May 2025.
Come along to the Innovation Village to chat to the Digital Supply Chain Hub team, find out about funding opportunities, book an appointment with our director or partnerships manager, and attend our talk, 'MSI Digital Supply Chain Test Beds: Building real data environments to test digital supply chain solutions', 8 June, 10.30am.
The Smart Manufacturing Data Hub at Smart Factory Expo
The Smart Manufacturing Data Hub will demonstrate their unique virtual platforms and low cost digital solutions at Smart Factory Expo including;
Low Cost Digital Solutions – See the demonstration and find out how your business can easily access and install low cost digital solutions which will capture vital data from the factory floor, and transform and visualise your data into useful insights aiding better decision making around energy usage, predictive maintenance and more.
View the demonstration and find out how your business can utilize the Manufacturing Data Exchange Platform with existing datasets from your factory to gain insights, enabling your business to make data driven decisions.
View the Virtual Manufacturing Platform live and find out how your business can simulate new scenarios on the factory floor. This will de-risk investment decisions and enable a more strategic decision making process.
View the SMDH training platform, learn how you can access training on data and digital techniques, upskilling your factory workforce, including data leaders, innovators, managers and production employees.
Current Funding Support Available
Companies who work with the Smart Manufacturing Data Hub are eligible to apply for grant funding, available on a match fund basis, to allow for further development of digital technology in their factory. Current open funding opportunities available to March 2025 include;
Demonstrator funding from £5k - £50k
Virtual Testbed funding up to £100k; and
Lighthouse Project funding up to £315k
Come along and talk to the team at the Smart Manufacturing Data Hub, watch live demonstrations and connect with the expert team to learn more about what SMDH can offer SMEs and talk to us about how you can access the current funding packages. Join the talk on the Innovation Stage on Wed 7th June at 10.15am where Hub Director Simon Coward will be exploring "MSI Smart Manufacturing Data Hub: Unlocking the value of shared data in manufacturing".
InterAct Network
InterAct is working alongside partners within industry and the wider Made Smarter Innovation programme to build a strong, vibrant, interdisciplinary community where researchers are generating actionable economic and social science insights for the benefit UK manufacturing and digital technology businesses.
InterAct is now excited to be able to share the findings from some of its earliest research projects, including work on:
The overall perceptions of the manufacturing sector, employment opportunities in industry and the considerations needed to thrive in the future business environment.
The specific challenges the manufacturing industry faces when making effective investments into digitalisation, and identifiying the key questions they should address to overcome them.
Identifying lessons from history that may help overcome the challenges of industrial digitalization.
Visit our stand to discuss how you can get involved or benefit from the work of InterAct. To find out more, head to the Innovation Stage on Thursday 8th June, 9:30am to hear from InterAct Co-director, Professor Janet Godsell. More information can be found on their website: https://interact-hub.org/

SME Growth Summit
Made Smarter Innovation Smart Manufacturing Data Hub and Made Smarter Innovation Smart Manufacturing Hub have partnered with The Manufacturer and Digital Catapult for the SME Growth Summit.

They will be co-hosting a 60-minute round table discussion at the summit, where you can learn from industry experts and your manufacturing peers.
Made Smarter Innovation Deputy Challenge Director Ben Farmer said, "We are excited to present the Innovation Village at Smart Factory Expo. The event showcases the latest advances in the application of digital technologies to manufacturing and supply chain challenges including productivity and sustainability. From the new tools and services recently launched from the Digital Supply Chain Hub to strengthen the efficiency and resilience of supply chains, to the SME-orientated low-cost digital solutions and manufacturing data exchange platform from the Smart Manufacturing Data Hub and the growth of InterAct's Women in Manufacturing programme, Made Smarter Innovation is a hive of innovative activity. Exhibiting alongside our partners at the High Value Manufacturing Catapult as well as Innovate UK KTN and Innovate UK Edge demonstrates the breadth of support we can offer innovative organisations looking to advance the future of UK manufacturing."